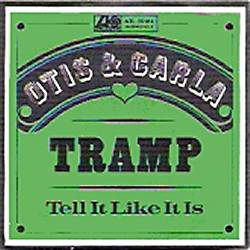 OTIS REDDING & CARLA THOMAS - TRAMP
(L. Fulsom; J. McCracklin)
Atlantic ATL 70.214



Tramp
Whatcha call me?
Tramp
Oh you didn't!
You don't wear continental clothes or Stetson hats
But I'll tell ya one doggone thing. It makes me feel good to know one thing. I know ... Im a lover!
Matter of opinion, baby
Huh? That's alright, mama was
So?
Papa too
Hmmmm
And I know this job, lovin's all I know to do
Ya know what, Otis?
What?
You're country!
That's alright
Youre straight from the Georgia woods. That's good
Ya know what? You wear overalls, big ole broke iron shoes and ya need a haircut, tramp.Haircut! Woman, you goofy. Ooooo... whaaaa Im a lover
Yeah, huh
Mama was, right mama? Papa too. Ahhh that's alright. But, Im the only son of a gun
Oh yeah?
This side of town. Tramp?
That's right, that's what ya are
Oh baby, rat cat like that
Youre a rat and a tramp! You know, Otis, I dont care what ya say you're still a tramp
What?
That's right. You havent even got a fat bank roll in your pocket. You probably havent even got twenty five cents
I got six Cadallacs, Five Lincolns, Four Fords, Six Mercurys, Three T-Birds, Mustang, Ohhh woman, Im a lover
Huh, cant prove it by me
My mama was, my papa too. Im gone ...